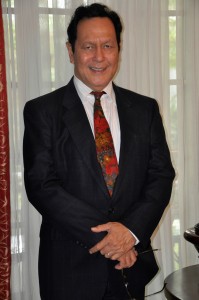 Atty. Leo has been engaged in active law practice for more than 30 years. Prior to putting up the MENDOZA ARZAGA-MENDOZA LAW FIRM, he was the counsel for a University /Hospital, then joined a law firm in the Metro Manila area where he was the Managing/Supervising Attorney.
He was a consultant for a local government unit (City) and has practiced extensively in public law in both the courts of law and in administrative bodies and tribunals. The various issues presented included municipal taxation, boundary disputes between cities and municipalities, real property taxation, and judicial and administrative remedies for the collection of taxes.
His other areas of practice include criminal and civil litigation, immigration and deportation proceedings, appellate practice in both the Court of Appeals and the Supreme Court, Estate and partition proceedings, Land registration and Agrarian Law practice.
Atty. Mendoza heads the criminal law division as well as the immigration division of the MENDOZA ARZAGA-MENDOZA LAW FIRM having successfully litigated and obtained favorable outcomes in numerous criminal and civil cases. In the field of immigration law practice, he has handled immigration matters for the past 30 years now.
Atty. Mendoza also possesses exposure to International Law, having worked in a law firm in Beverly Hills, California, U.S.A.
At MENDOZA ARZAGA-MENDOZA LAW FIRM, he handles cases brought before International Arbitration Boards and has appeared in the following countries: Singapore,  Switzerland, Thailand, Korea, Russia and the Peoples' Republic of China.*