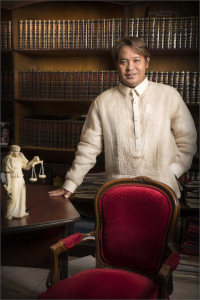 Atty. Jonathan joined the MENDOZA ARZAGA-MENDOZA LAW FIRM in 1999. An aggressive and fearless litigator, Atty. Jonathan De Guzman has practiced extensively in the areas of criminal law defense, civil law and contract litigation, labor laws and special proceedings.
Atty. Jonathan A. De Guzman possesses patriotic and nationalistic fervor and adheres to the principle of fair play and equal justice to all, especially the poor and the marginalized sectors of society, by dispensing justice regardless of race, color, creed, or status in life. He is a firm believer that GOD is the ultimate dispenser of justice.
Atty. De Guzman is a member of the Integrated Bar of the Philippines. He is also an active and dedicated member of the Alpha Phi Omega (APO) International since 1989.
Prior to taking up law, Atty. De Guzman completed a Bachelor's Degree, with a major study in psychology.